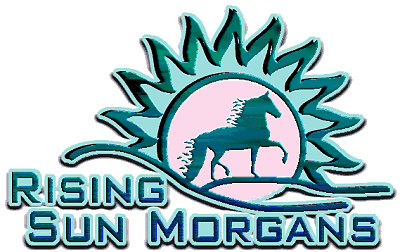 Rising Sun Morgans would like to introduce you to
the Broodmares and some of their offspring.


(Ultra Lad x Sallykay de Jarnette)
Kayde is our foundation broodmare. She has some of the best old Brunk bloodlines and although small, she is mighty. She has great heart and one of the nicest trots you'll see anywhere, which she has passed on consistently for us. She has 5 crosses to Flyhawk and over 100 crosses to Daniel Lambert thru such greats as Sentola, Jubilee King, Allen King and Penrod. Her tail mare line goes back to Daisy, considered one of the best Morgan broodmares crossed onto a son of Lady de Jarnette considered one of the finest Morgan mares ever. Her pedigree is strong and she looks it and produces true. Kayde is black and unfortunately has only given us one black, our stallion, though it is not our purpose to breed for color. We sadly lost Kayde in Aug 2008.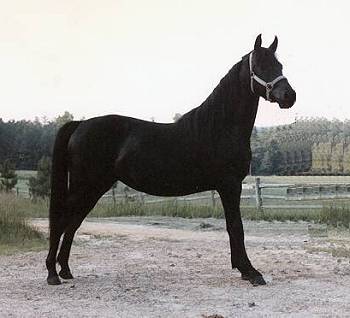 Kayde de Jarnette at 2 years old.
More Photos of Kayde

Click on any picture to see it enlarged.
Offspring of Kayde de Jarnette

Click on any picture to see it enlarged.

CAL Midnight Enchanter

CAL Bewitchmint

CAL Leading Lady

CAL Always In Fashion

CAL Shining Star

CAL Forever After

FOR SALE


(Ransomvale Gabriel x Roselyn Prima Donna)
This is a mare that I am very regretfully offering for sale. Melody is a 15.2H bay mare. We bought her from her breeder, Ann Sikes, as a weanling for her type, charisma and old pedigree. She is by a line bred Moro Hill's Morita stallion (sire of the 2004 World Singles competitor, Collector's Right Stuff) out of an old gov't mare. She has incredible length of shoulder which she consistently passes on. She has crossed extremely well with our stallion. She was shown successfully EP prior to joining our broodmare ranks and has consistently produced showy, athletic horses. This mare conceived after a 5 yr lay off on one cycle with no vet assistance. We offer her for $2500 open, or $3000 bred back to Enchanter.

Her 2004 filly by Enchanter, CAL Nightingale, "Flo" (raf) is offered for $4000.

Flo has probably one of the most awesome trots ever produced here on the farm. Flo is the largest of this cross to date. Her older brother is 15.3H and Flo looks to mature at least that big or BIGGER!
Click on any picture to see it enlarged.

This photo is full size.


Offspring of Harvest Melody

CAL Enchanted Fantasy

CAL Nightmusic

CAL Spellbinder



(WindhoverEnchantmint x Kayde de Jarnette)
Red, a smutty chestnut is a 15.1H full sister to our stallion. She was a keeper from the day she was born. One of the nicest Morgans we have produced. She is typy with wonderful hip, shoulder and neck. She looks her Lambert heritage. She has produced one beautiful filly for us and will be bred next in 2002.
Offspring of CAL Bewitchmint

Click on any picture to see it enlarged.

CAL Foxy Lady

CAL Foxy Lady

is currently offered for sale. For more details see the

Sales List

page.

FOR SALE


(Blue Knoll Starbrite x Blue Knoll Beanna)
Diamond is a 14.3H, 17 yr old black mare who has produced some of our most athletic babies. We obtained her from the same breeders as Kayde, our foundation mare and she has similar bloodlines crossed onto Paramount/Kingston breeding. She is very typy and looks like a carousel horse. She is broke to ride and drive. We have just starting riding her after a 7 yr lay off and she is doing great! She is not breedable without surgery (torn cervix) and had founderd 5 yrs ago, but has been sound for 3 yrs. She would make a nice trail horse or baby sitter. She loves foals and will let any of them nurse off her, even without milk. A good home is most important. Asking $1000.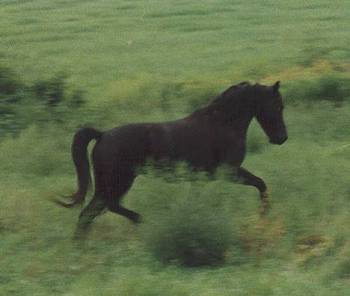 More Photos of Blue Knoll Diamond
Click on any picture to see it enlarged.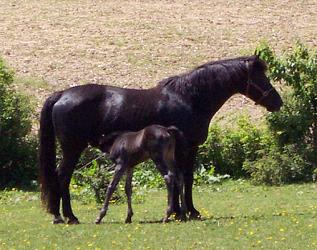 Offspring of Blue Knoll Diamond

Click on any picture to see it enlarged.

CAL Midnight Majesty

Mitakola Midnight Special

CAL Milady Enchantress

CAL Milady Enchantress is currently offered for sale. For more details see the Sales List page.

Future Broodmare



(Tug Hill Celebrity x Kayde de Jarnette)
Lovey is a 6 yr old chestnut mare who is an outstanding mover with a wonderful disposition. She will be my next Combined Driving Horse, prior to joining the broodmare ranks, though I think she would do equally well English Pleasure.
Click on any picture to see it enlarged.

This photo is full size.


(CAL Midnight Enchanter x Harvest Melody)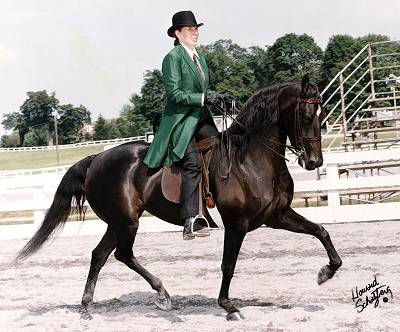 Click on any image to see it enlarged.

This 10 yr old, 15.1H black/brown mare is beautiful and elegant. She has shown to blues in EP, saddle and harness as well as Classic Pleasure, saddle and harness. She is a world caliber Classic contender. She absolutely loves people and attention. She would like to have that special someone who has time for her. You will be hard pressed to find a horse with this kind of laid back shoulder and deep hip. Out of a Lippitt/gov't mare of the best Lippitt bloodlines, her pedigree and excellent conformation also makes her attractive as a future broodmare. "Fanny" is one of my very favorites.
Pedigree for CAL Enchanted Fantasy

CAL Midnight Enchanter
WindhoverEnchantmint
Beamington
Mr Breezy Cobra
Ellen Bar
Milady Dona
Windcrest Donny Boy
Ginger Mildann
Kayde de Jarnette
Ultra Lad
Prince Cobra
Doves Pattibell
Sallykay de Jarnette
Stillwater Atilla
Sally de Jarnette
Harvest Melody
Ransomvale Gabriel
Chivas Regal
Waseeka's In Command
Ransomvale Vigilda
Ransomvale Mariah
Allen's Major
Moro Hill's Morita
Roselyn Prima Donna
Roselyn Adonis
Donlyn of Wind-Crest
Statuette
Dee-Cee Florette
Bay State Admiral
Dee-Cee Caprice

Rising Sun Morgans
115 Montgomery Road
Rising Sun, MD 21911
Phone: (410) 658-2845
E Mail: rsmorgans@yahoo.com
Logo copyright © 2000-2001 Rising Sun Morgans
Photos copyright of the individual photographer or Rising Sun Morgans
Backgrounds and other graphics designed by TDM Equine Design
Exclusively for use on this web site...Do not copy.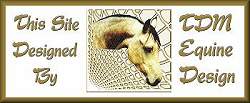 Please report web site problems to the webmaster.